'Chicken Man' and the cop 
Two men, one crime, and the heavyweight championship of the world 
By Blake Guthrie 
1949 
J.D. Hudson knew they were a bunch of no-good punks as soon as they strutted into the drugstore. 
He was gobbling down lunch at the old Yates & Milton pharmacy on the west side when the door chime rang and a neighborhood numbers boss named Robert "Short Papa" Vambrose strolled in with his entourage. 
"Young hustlers in training," Hudson thought to himself. 
He was in a rush to make an afternoon class at Clark College, which is what they used to call Clark Atlanta University in those days. But Hudson wasn't just a student. He was a pretty tough guy in his own right, bristling with the muscles of an amateur welterweight champ and, at 22, one of the first black men on the freshly integrated Atlanta police force. 
"Short Papa" and the gang didn't know that. All they noticed was that Hudson was sitting in the wrong seat at the wrong table, the one right next to the door. One of the young hustlers — a short, stocky kid — swaggered behind him. 
"You're in my seat," the punk said, "and you better get up if you know what's good for you." 
Hudson didn't turn to face him. "Go straight to hell," he muttered, and went back to work on his tuna fish sandwich. 
Someone seated near Hudson gave him a warning: "He's got a gun." Hudson turned his head and felt the blunt end of a pistol, pressed cold against his cheek. 
The way he remembers it, he put the remnants of his sandwich on his plate, then calmly got up to leave, staring the little punk down as he went through the door. At the last moment, he cast an eye toward another young hustler, a slender sidekick who was just standing there grinning. It was the first time J.D. Hudson noticed Gordon "Chicken Man" Williams. 
Short Papa and his gang laughed as Hudson walked out. Hudson was seething. 
Late that afternoon, he reported for duty at the black officer's precinct, which was stashed at the Butler Street YMCA, a couple of blocks from police headquarters. He told his sergeant about the incident, and his sergeant seethed, too. 
"Let's go get him," he told Hudson. 
They jumped into a squad car — the white sergeant had to drive because black recruits still weren't allowed to — and headed across the tracks to the west side. It didn't take them long to spot the young hoodlum with the gun and his grinning sidekick. They were standing on a corner on Hunter Street (now Martin Luther King Jr. Drive). 
"That's the guy," Hudson told his sergeant. The sergeant pulled the car up to the curb, and Hudson jumped out. 
"Shit, man, that guy's a cop!" one of the punks said. Hudson grabbed the little punk and tossed him into the back of the squad car, leaving Williams to wonder what would happen to his friend. 
"We had a problem arresting him — that's the lie I must tell you," Hudson recalled. "So we had a big fight and I whooped that young hustler's butt. They had his picture in the paper the next day, face all swollen up, headline saying it was brutality — and I was the brute." 
It became a mini-scandal. The little guy got out of jail and lodged a complaint against Hudson. There was an internal probe. Williams testified. He told about the incident in the drugstore, and about his friend being snatched off the street. 
"I was investigated, vilified, tried, fined and suspended," Hudson recalled. He had to pay $50 and was off the force for 60 days. 
On the street, Williams feared retribution for his testimony against the tough young cop. "I stayed out of J.D.'s way after that," he later said. "Whenever I would see him coming one way, I would turn and walk the other." 
1970 
This was a dream assignment. Police Lt. J.D. Hudson was standing ringside, displaying a level of decorum appropriate to the task. But inside he was as giddy as a child who'd inherited a candy store. 
Here he was after 21 years as an officer — a long way from a rookie cop in trouble in the tenuously integrated Atlanta Police Department. He was in his prime — the first black detective lieutenant on Atlanta's vice squad, the envy of white colleagues who had a harder time cracking cases on the black side of town. But this fine night had to take the cake: He was guarding "the Greatest." 
Muhammad Ali was the most popular athlete — quite possibly, the most popular person — in the world at the time. But at home, the boxing establishment and American politicians vilified him. Shortly after winning the heavyweight title in 1964, he announced he was Muslim and, when he was drafted in 1967, he declared himself a conscientious objector. "I ain't got no quarrel with them Viet Cong," he told the world. 
Ali was convicted of draft evasion. The World Boxing Association took away his belt. For three years, while his appeal worked its way through the federal courts, Ali was free to fight but couldn't find a place that would let him. 
The first 22 states he approached denied him a license. California Gov. Ronald Reagan replied to his application by saying, "That draft dodger will never fight in my state, period." 
Georgia was a surprising setting for Ali's return to the ring. Segregationist Gov. Lester Maddox was so conservative, he made Reagan look like a wild-eyed liberal. But Leroy Johnson, Georgia's first black state senator since Reconstruction, made it his personal mission to bring Ali's return fight to Georgia. And the state didn't regulate boxing, so it didn't have a boxing commission to turn down Ali's request for a license. 
The bout was set for Oct. 26 at Municipal Auditorium, a drafty old building at the corner of Courtland and Gilmer streets, best known for Friday night wrestling. The former champ's foe would be Jerry Quarry, a beefy slugger from California known as the era's "Great White Hope."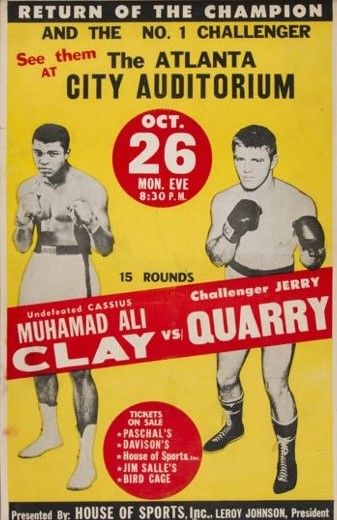 The auditorium only housed 5,000 people, but millions around the world were paying attention. The New York Times reported that almost 19,500 frenzied fans paid top dollar to watch on closed-circuit TV in Madison Square Garden. Similar reports came from Italy, Spain, London, Beirut and even the Soviet Union, where the broadcast was in one sense a surprise, because professional sports were criticized there as "decadent" capitalism, and in another sense quite natural, because the Soviets lionized Ali for refusing to fight in Vietnam. 
It's impossible to quantify the cultural impact of the night on Atlanta. A quarter-century before Ali lit the cauldron to inaugurate the 1996 Olympics, it was he who placed the city in the global sports spotlight by returning to the ring here. And his presence, in particular, spotlighted the emerging capital of the New South in its new role as a black Mecca. 
The Times reported that the bout was like "a page out of the roaring twenties. ... The ladies had beads down to the hem of their maxi-skirts. One man wore an ankle-length mink coat, with a high hat of mink to match. ... Diana Ross sat in the fourth row, ringside, with a bouffant, Afro-American hair-do that stretched out 10 inches on each side." 
Boxing historian Bert Sugar said the fight "marked the greatest collection of black money and black power ever assembled up until that time. Right in the heart of the old Confederacy, it was 'Gone with the Wind' turned upside down." 
Many years later, longtime Atlanta Journal-Constitution columnist Furman Bisher wrote: "It was more than a prizefight. It was an event. It made a statement. There has been nothing like it in Atlanta before or since." 
Even Ali himself was astounded at the show. Hours before the bell rang, in the lobby of the Regency Hyatt, he quipped in his usual cocksure fashion: "There are so many of my people around, they think we own the hotel." 
The Greatest was, of course, the center of attention. He had his own bodyguards. But after Ali received thousands of death threats, Atlanta police surrounded him with extra security. 
And Hudson was at the center with Ali. Now, before the fight, he was scanning the crowd as the former champ climbed into the ring. Flashbulbs were popping, sportscasters were babbling, giant television cameras were rolling, and the audience was very, very loud. Just a few feet away sat Diana Ross. Nearby, Hudson spotted Bill Cosby, Hank Aaron and Coretta Scott King. 
And Hudson recognized other faces, ones the general public wouldn't know. They were the big-time hustlers. They went by street names like "Fireball" and "Big Daddy." That night, they were entertaining guests from Miami and New York. If there had been a tabloid magazine for criminals, these guys would've been on the cover, stepping out of limos with girlfriends decked in jewelry and dropping fat tips all around town. 
Hudson wasn't worried about the hustlers. Like the celebrities, they were there to cheer on Ali. But he did take note of one man. Gordon "Chicken Man" Williams was, as usual, one of the best-dressed men in the crowd, sporting a sharp tan suit that he later confessed set him back $1,000. Accompanied by his pals, he took a seat on the 10th row. 
The two men had settled into something of a detente since their 1949 encounter. About a year afterward, when Hudson was off-duty, he spotted Williams walking, again along Hunter Street. Williams saw Hudson and did his usual about-face. 
But Hudson pulled his car over and told Williams he wanted to talk to him. He got out of the car. 
Williams, still a lanky teenager, stood there waiting for trouble. He was surprised when Hudson simply said he had nothing against him, because he hadn't done anything wrong — that all he'd done was tell the truth about what he saw that day. Then, Hudson left Williams alone. 
Over the next two decades, while Hudson worked his way up the ladder at the Atlanta Police Department, Williams climbed Atlanta's street-hustler pyramid. He was friendly, good-natured and ambitious, and in many ways, the legal restrictions of segregation were less of a hindrance on his side of the blue line. 
Williams started accumulating enough money to put a jingle in his pocket. One day, he decided to buy an armful of chicken sandwiches from a street vendor for 52 cents apiece, so he could hand them out to a group of pretty women who were standing nearby. The slick young hustler repeated that routine whenever he saw those particular ladies. One day, one of the ladies saw him coming and blurted out, "Here comes the Chicken Man!" The nickname stuck. 
Williams started out as a bet pick-up man for "the Bug," an illegal lottery based on the daily stock-market numbers. Then, he became a bookie, and finally, just like "Short Papa," a "banker," the guy who took in and paid out the cash. He became a well-known figure in the community ... liked by many on the street for lending money, but infamous in law enforcement and newspaper circles for running whiskey and selling drugs. 
But Hudson knew Williams wasn't violent. He viewed him as he did a lot of the local hustlers: not worth spending a lot of effort bothering when more harmful lawbreakers were around. 
"The hustlers in Atlanta were mostly nonviolent," he recalls. "It was rare that you would see a gun pulled. Hustling was just another way of life. Most everything they were doing back then is legal now. People don't understand that. I grew up with it. I never bothered with the hustlers unless they pulled a gun or got violent." 
Hudson never took retribution against or even arrested the young man who testified against him. Over time, the two developed a grudging acquaintanceship, the kind where you nod and say, "What's up," when your paths cross. 
And that night as he watched "Chicken Man" and his cronies settle into their seats, Hudson knew he had other things to worry about — but he wondered what kind of no-good Williams was up to just the same. 
Before the fight, Curtis Mayfield strummed a soulful rendition of the national anthem on an acoustic guitar. But the fight itself was anti-climatic. 
Many fans thought Ali was bound to be rusty and that Quarry, who was ranked as the No. 1 contender to new champ Joe Frazier, would at some point catch Ali with his fearsome left hook. But Quarry proved too slow for the former champ, who peppered Quarry with jabs and kept slipping away from the monster hooks. By the third round, Ali was able to go in on Quarry, trading flurries of jabs for the occasional body blows. He opened up a cut on Quarry's eye and worked it over so the blood really started flowing. Before the fourth round began, the fight doctor stopped the bout. And less than 15 minutes after it began, the referee declared Ali winner by technical knockout. 
The response was mayhem. Reporters and fans alike struggled to hear what Ali was saying in a post-fight interview. It was far too loud, even after a microphone was placed in front of him. A lot of the audience started drifting away to after-fight parties. 
Engraved invitations to one party, in particular, had been passed around to the hustlers in New York a week earlier and in Atlanta in the days leading up to the fight. The invitations announced that "Fireball" was throwing a birthday party for "Tobe" at 2819 Handy Drive in the Collier Heights section of the West End. 
The Handy Drive house happened to be one of several properties that "Chicken Man" Williams owned. He'd given a friend, an Atlantan-turned-New-Yorker known as "Fireball," permission to use the house. He'd even helped build a craps table the week before so all the big-time gamblers who were sure to show up could "roll the bones." 
Williams' girlfriend, Barbara Smith, skipped the fight to help prepare for the party. She and two girlfriends were busy in the kitchen when they heard the front door open. The fight was still going on, so Smith went to the front, expecting to meet an early bird. She was greeted by three men in ski masks standing in the hallway. All were armed; one was pointing a shotgun at her face. 
Around the same time, in Municipal Auditorium, after Ali was declared the winner, Hudson was still ringside, helping to control the crowd. Inside the ring, Ali was pumping a gloved fist into a television camera and yelling, "I didn't get enough action. I'm going to solve this thing with Joe Frazier." 
By the time the Atlanta Journal hit the streets the following afternoon, Ali wasn't getting the biggest headline. The robbery was. 
An estimated 80 to 200 people had arrived at the house expecting to party, only to be fleeced by masked men with shotguns. According to news accounts, the victims were led to the basement, then ordered to strip to their underwear, throw all their valuables in a pile and lay on the floor. 
As more victims arrived, floor space in the basement became scarce, so the gunmen ordered the victims to lie on top of each other. Cash and jewelry was swept into pillowcases. That went on for hours as more and more people kept showing up. By 3 a.m., the half-naked victims were stacked like cordwood on top of each other. 
Not one shot was fired. But as they left, the gunmen took Smith and one of her friends hostage and told everyone else to stay put. Three hours later, they dropped the women off on the other side of town and gave them $10 each for cab fare. By that time, the investigation was underway. 
The Journal headline declared that $100,000 had been lifted at the party. The following day, the paper jacked that estimate up to $200,000. But even that might have been low. Based on interviews with victims and anonymous calls that came in, a police estimate of the final haul came to about $1 million. It seemed the big-time hustlers had come to town and been hustled by Atlanta crooks. 
What troubled investigators most was that so few of the victims were talking — only five filed official complaints. Plus, most of the party-goers were from out of town and left no contact information when they left Atlanta. 
Police Chief Herbert Jenkins figured the victims, all of whom were black, weren't talking because the initial investigators were white. So he assigned Hudson to the case. 
"If there's any such a thing as the Black Mafia, then the Black Mafia was robbed," Hudson told the press soon after he was assigned to the case. "Those people don't accept a thing like this too lightly. They will have men out searching, too. And if they get there first, there won't be an arrest and trial." 
Police got their first real break two days after the crime. They found a shotgun and a yellow-and-white pillowcase in a leather satchel in some woods near the house. A trace on the gun led Hudson to Houston Hammonds, a petty criminal from Atlanta with a seven-page arrest record. At first, Hammonds wouldn't talk. 
But when Hudson threatened to name Hammonds publicly as a suspect and turn him loose on the streets, Hammonds cracked. He gave investigators enough information to acquire the names of two men for whom he said he'd bought the gun. 
Hudson and his partner went to the apartment of James Hall, one of the two men, according to an extensive June 1971 Atlanta Journal-Constitution Sunday magazine article about the robbery. No one was home. But police did find yellow-and-white sheets on the bed that matched the pillowcase found outside the house. 
Still, all Hudson had was two names, matching linens, and no suspects in custody. Hall never returned to the apartment. Everyone else associated with the crime had seemingly dropped out of sight. 
Then, an anonymous call to a police hotline told detectives the party had been a setup. The source said the robbers were planning to use their haul to help pay off a narcotics deal gone bad earlier that year in New York City. Suddenly, Gordon "Chicken Man" Williams — who, after all, owned the house — became the No. 1 suspect. 
It seemed, however, that the mob was one step ahead of the police. Two days after the robbery, the New York Times reported that Williams was dead — murdered by hit men in a contract killing. 
 2002 
Jeff Keating was nervous as he stood on a front porch in southwest Atlanta's Cascade Glen subdivision and considered his options. 
He could knock, or he could ring the bell. Or he could do both, just in case the bell didn't work. One thing he wouldn't do was walk away. Keating had come too far in the last few months to even consider such an option. 
Half a year earlier, he was making ends meet by working the door at Eddie's Attic. The aspiring filmmaker already had completed two screenplays and produced a short film. He told his father he wanted his next project to be a true-crime story. His father, a writer himself, challenged him to do his own research. He said he remembered a big robbery that made headlines the day he and Keating's mother left for their honeymoon 32 years earlier. 
Soon afterward, the younger Keating was in the Decatur library, hunched over the microfilm machine. He found a headline from the Oct. 27, 1970, Journal: "After-fight party-goers robbed of $100,000 in cash, jewelry." Keating began gobbling up all the information he could find about the fight and the robbery. 
A couple of months later, the AJC ran a Furman Bisher column that was written in response to former heavyweight champ Mike Tyson's quest for a license to fight in Atlanta. Under the headline "Ali-Quarry city needs no Tyson," Bisher argued that Atlanta, which had once hosted the noble spectacle of Ali vs. Quarry, had no room to cheer on a sex offender like Tyson. In recapping the crime that occurred after the fight, Bisher wrote that "the party was hosted by a slicker named 'Chicken Man' Williams, later shot to death in New Jersey." 
The article fueled Keating's obsession. 
J.D. Hudson was quoted in almost every story Keating came across. So he called the police department to find out if the detective in charge of the case was still alive. 
Now, in July 2002, Keating was standing on Hudson's front porch in a nice subdivision, wondering how best to approach his most important interview. The gruff ex-cop pulled open the door. Amid the haze of Hudson's swirling cigar smoke, Keating introduced himself and reiterated his earlier phone message — he was there to talk about the robbery after the Ali-Quarry fight. 
"I'm tired and I'm retired," Hudson grumbled. "I don't have to talk to you. I don't have to talk to nobody." 
Then, he invited Keating inside and ordered him to sit down. Keating turned on his tape recorder. 
Keating already knew that "Chicken Man" Williams, James Hall and a suspect named McKinley Rogers were killed in the days and months following the heist. Six months after the hustler holdup, Hall and Rogers died gangland-style in a hail of bullets outside a pool hall in the Bronx. The killers didn't even bother to take the $700 in cash or the guns the two men had been carrying. 
New York police couldn't make sense of the case until they found out McKinley and Hall were from Georgia. Hudson was flown up to New York. He and the NYPD detectives connected the dots to the post-fight robbery. It was determined to be a retribution killing. Hudson was quoted in a May 1971 Times article saying, "We said last fall it was just a matter of who caught up with them first, the police or the victims. It appears the victims got there first." 
All Keating knew about "Chicken Man's" fate was that he'd been shot to death in New Jersey. He asked Hudson for a timeline on the investigation, because he was confused about exactly how and when "Chicken Man" had been killed. 
"Now, take me back to the days after the robbery," he asked Hudson. "Is 'Chicken Man' alive or dead at this point?" 
"'Chicken Man' is alive," said Hudson. 
Keating opened up his manila folder and shuffled the papers until he found the clipping he was looking for. "OK, but they said 'Chicken Man' died within two days of the robbery." 
"'Chicken Man' is alive now," Hudson said. "He is Rev. Gordon Williams, at Salem Baptist Church." 
"'Chicken Man' is alive now?" Keating was dumbfounded. Shaking his head in disbelief, he pulled out the Times story and read a portion to Hudson: "'Williams is dead as a result of a contract hit on him — gangland terminology for an arrangement of murder'." 
"You don't know nothing from nothing," Hudson grumbled. 
2004 
The Rev. Gordon Williams sits drumming his fingers on his knees at International Ministries 2000, the church he pastors on Greenbriar Parkway. It's been seven years since he's seen J.D. Hudson. Now, he's waiting anxiously for the ex-cop to stop by. 
Two years ago, a white kid showed up on Williams' doorstep asking for the "Chicken Man." Williams hadn't been called by that name in about two decades. The kid started asking questions about the night of the Ali-Quarry fight and told Williams he wanted to make a movie. 
Williams didn't know what to make of Keating at first, but eventually warmed up to him and his movie idea. Keating decided to try making both a documentary and a feature film on Williams, Hudson and the robbery, and now, on this August afternoon, he's getting footage of the two men for the documentary. 
As Williams waits for Hudson to arrive, someone near the front yells that a car's pulling into the lot. "Black Cadillac," Williams says softly, as if calling a roll of the dice. 
"It's a black Cadillac," yells back a member of the film crew. The soft-spoken preacher nods his head once and gives a slight smile. 
Hudson makes sure to extinguish his stogie before coming in. The normally brusque ex-cop has a look of childlike anticipation as he walks in with arms outstretched, bellowing, "Where's my pastor? Where's my pastor?" 
Williams, with a broad smile, gets up to meet Hudson. The two men who first met 55 years ago over lunch at Yates & Milton embrace and begin laughing, both sets of hands pounding on the other's back as if banging a drum. They lean out to get a look at each other, still holding on, and then embrace again. 
"Here's my pastor," Hudson says, chuckling now, still patting Williams. The two men sit in front of the cameras and begin talking like old friends. Their conversation is prompted by questions from Keating and his crew. It's the first time Hudson and Williams have spoken publicly together about the closed yet unsolved case of the robbery. 
A random observer might be tempted to wonder: Could "Chicken Man" have been behind the crime? Or could the million-dollar heist have been some kind of grand conspiracy between the two men? Did Williams fake his own death, lay low for a while, resurface in the guise of a preacher, split the loot with Hudson and make a pact to carry the secret to the grave? 
The unknowing observer wouldn't know what really makes these two men brothers: It's a shared, unspoken legacy — the legacy of two black men who came of age as the South was finally changing, two men who found their ticket out of the ghetto around the same time in the same place, but on opposite sides of the law. 
Now, they're sitting in warm repose inside a church. As Hudson and Williams talk, the much simpler explanation debunks any conspiracy theory. From the time he took over the case, Hudson says, he knew Williams wasn't responsible — even though other investigators already had pinned the crime on him. For one thing, Hudson could place Williams at the fight at the time the gunmen were at the house setting up the crime. 
For another, Hudson says, "I knew [Williams] wasn't dumb enough to pull a stunt like that. This was a man who ran a million-dollar operation from a pay phone on a street corner. He was smart. He could've run IBM or Coke. There's no way he would've risked all that to pay somebody off. This was pulled off by a bunch of young thugs who were trying to knock over a party, and when they got there and saw how big it was, they improvised." 
When asked why anyone in the press would report that a hit man had shot him dead in New Jersey, Williams shakes his head. "I don't know where they got that one. They've been saying I've been dead for years, but I've been right here in Atlanta the whole time." 
Then Keating asks, "J.D., with all the stuff going on — with the newspaper articles, the rumors, the conjecture — why do you think Gordon was able to live through this?" 
Hudson responds by giving Williams a look and reaching toward the pastor. "Give me another hug," he says. The two men, still seated, lean in to embrace each other. 
"Because I went on national TV and said he didn't do it," Hudson explains. "I'm 99.5 percent sure that I saved this man's life." 
Hudson thinks his statements about Williams' innocence — during a press conference two days after the robbery — circulated on the street and that Williams' life was spared as a result. 
Williams says he played a role in his own survival. "I knew I was a dead man when I saw my picture in the paper," he says, "because they made it look like I had something to do with it." 
So the day after the robbery, after he saw the newspaper photograph connecting him to the crime (and before Hudson was involved in the case), he got a lawyer and went straight to the police, volunteering to answer questions. He says he remained as visible as possible after that, so people wouldn't think he was "off counting the money somewhere." And he contacted some hustler friends in New York to let them know that he had nothing to do with the robbery. 
"I survived because I wasn't involved," Williams adds. 
Police figured five to eight masked gunmen pulled off the heist. By June 1971, only three had been identified — Rogers, Hall and a man known as "Bookie" Brown. All three were dead. Investigators could only assume that a similar fate had befallen the others. 
Asked when the investigation came to an end, Hudson replies dryly. "When everybody was dead," he says. 
Also in June 1971, the Supreme Court announced its decision in Ali's appeal of his draft-dodging conviction. By unanimous vote, the high court vindicated the former champion and declared him a legitimate conscientious objector. Although he'd lost his title and even his right to box during three prime years for any fighter, Ali would go on to reclaim the heavyweight title by defeating George Foreman in Africa in 1974. 
While Ali had his comeback, Williams hit bottom. In the mid-'70s, he entered prison for three-and-a-half years on a narcotics violation. There, he became involved in prison ministry. When he got out, he returned to the streets and the narcotics trade. But he says now that he began to realize he needed to stop living "in violation." 
"I had run my course in that life," he says. The last straw came in 1978 when he was held responsible for losing "a large amount of marijuana" after a drug deal. "I had to pay off a lot of people," he remembers. "After I paid my debt off, I said to myself, 'That's it, I quit.'" 
In snapshots formed by chance encounters, Hudson saw Williams change. The person who used to be known as "Chicken Man" "just sort of faded away, and a new man emerged. 
"He began to speak softer and talk more about family and things like that, about what was really important in life," Hudson says. "There seemed to be a physical difference in the man — I mean he actually looked different. Then one day I heard that he had been ordained as a minister and it didn't surprise me." 
Williams has six kids and six grandchildren. He lives with Delores, his second wife, near his church, still on the west side. 
He's excited not only by the documentary that is being filmed, but by the screenplay Keating has written based on his life. Music mogul and film producer Dallas Austin is close to finalizing a deal with Keating to buy rights to the screenplay. "I'm very excited about this script," Austin said in a statement to Creative Loafing. "It's so Atlanta. We're going to film it in Atlanta and use Atlanta people." 
Upon retirement in 1990, Hudson and his wife — also named Delores — moved into their Cascade Glen house and settled in for a life of leisure. But a little more than a month ago, on the night of Sept. 23, two men approached Hudson as he parked his late-model black Cadillac in the garage. They were armed, and wore ski masks and dark clothing. They told him to get out of the car. 
Like the young hustlers in the Yates & Milton drugstore 55 years earlier, they had no way of knowing they were dealing with a cop — albeit a 77-year-old retired one. When Hudson got out of his vehicle, he was holding a gun behind his back. The would-be carjackers noticed and started firing. 
According to the police report, 13 rounds were fired. Hudson, with three bullets in him, shot and killed one of his attackers. The other assailant was hit, too, and ran away, but was arrested later that night. News reports the next day had friends and neighbors likening Hudson to the movie detective "Shaft," saying "the only thing that's gonna kill J.D. is old age." 
Hudson spent three days in the hospital and is recuperating at home. Just last week, Williams visited him. Hudson is up and walking around. 
He takes Williams out through the garage and into the driveway, pointing out where various bullets struck, not only outside his house but on his body. The bullets went straight through Hudson but hit no bones or vital organs. He shows Williams the six holes in his body, and says, "I guess I'm a lucky man." 
"You are," the hustler-turned-preacher counters, "a blessed man."