Wherein I attempt to capture a destination in five photographs.
I've lived within 90 minutes of downtown Macon for most of my adult life, but my first proper visit wasn't until the spring of 2022. I liked it so much that I made a return visit in the winter of 2023. 
I'd driven through town many times on my way to somewhere else (usually the beach), stopping for gas and fast food at an interstate exit. But these pics are from my first real visits when I went downtown and stayed at two new hotels.  
I became enamored of the city's streets, alleyways, architecture, eateries, breweries, history, public art, and overall community vibe.
The weather was perfect during both visits with clear blue skies and fluffy white clouds drifting by a lowrise skyline punctured by soaring church steeples, turrets, domes and mid-century office buildings that at one time were called skyscrapers.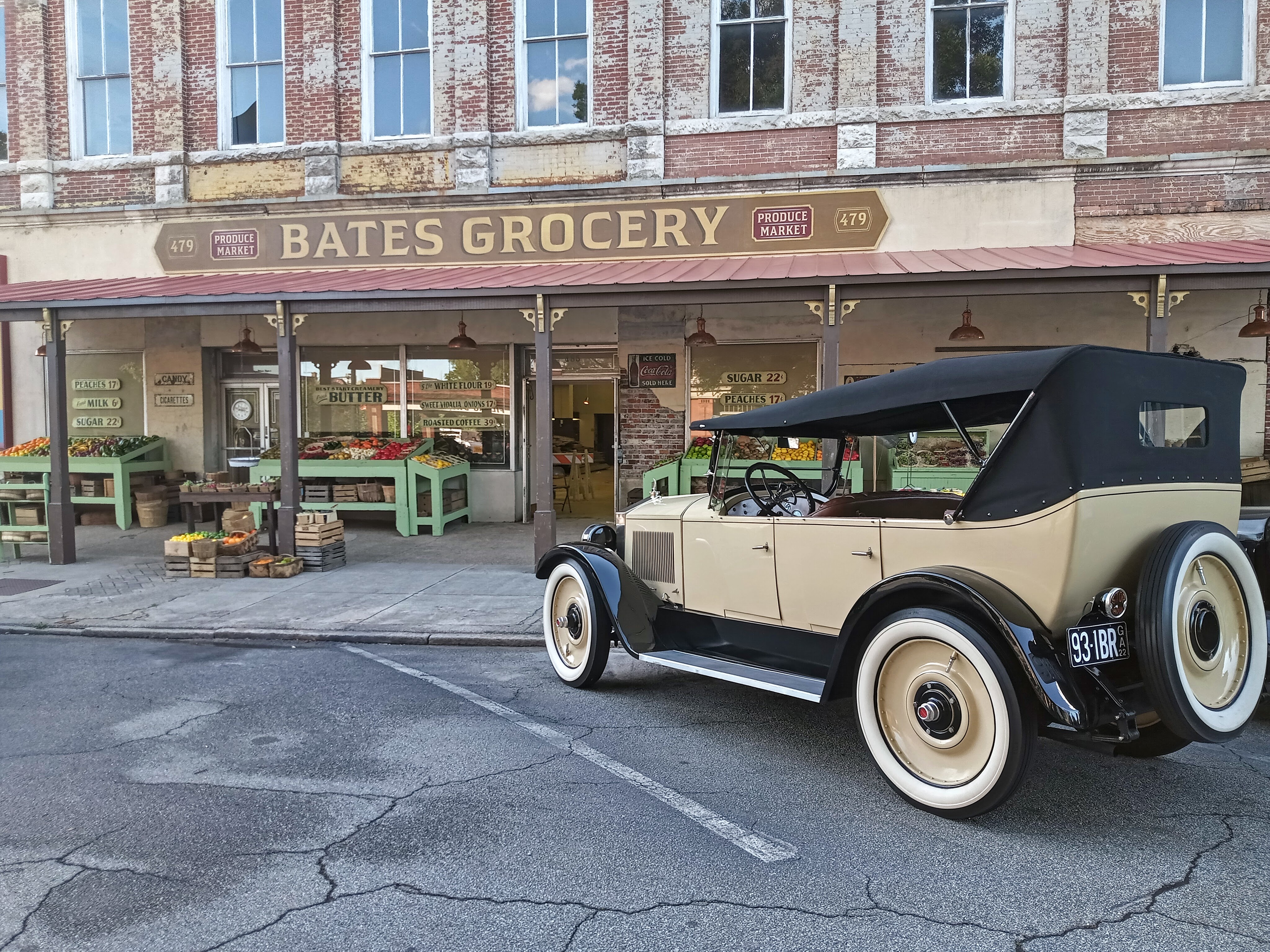 Bates Grocery doesn't exist. My introduction to downtown Macon wasn't ordinary and had me bewildered because I drove onto a working film set without knowing it. The filming was for the musical version of "The Color Purple" (It has a release date of Christmas, 2023). Oprah and Spielberg—executive producers on the film—were rumored to be in town when I was there but I never saw them. 
My first thought was, oh, wow, they still have old-school mom-and-pop grocery stores here, but soon realized that I showed up between takes after I tried to enter this store. Like Truman in "The Truman Show," I saw extras taking a break in a vacant building. Much of downtown was set up like this with faux storefronts, vintage signage and flawless-looking antique vehicles. On my return visit in 2023, no indication of Bates Grocery or the old-timey gas station across the street remained.
View from my bathroom at Hotel Forty Five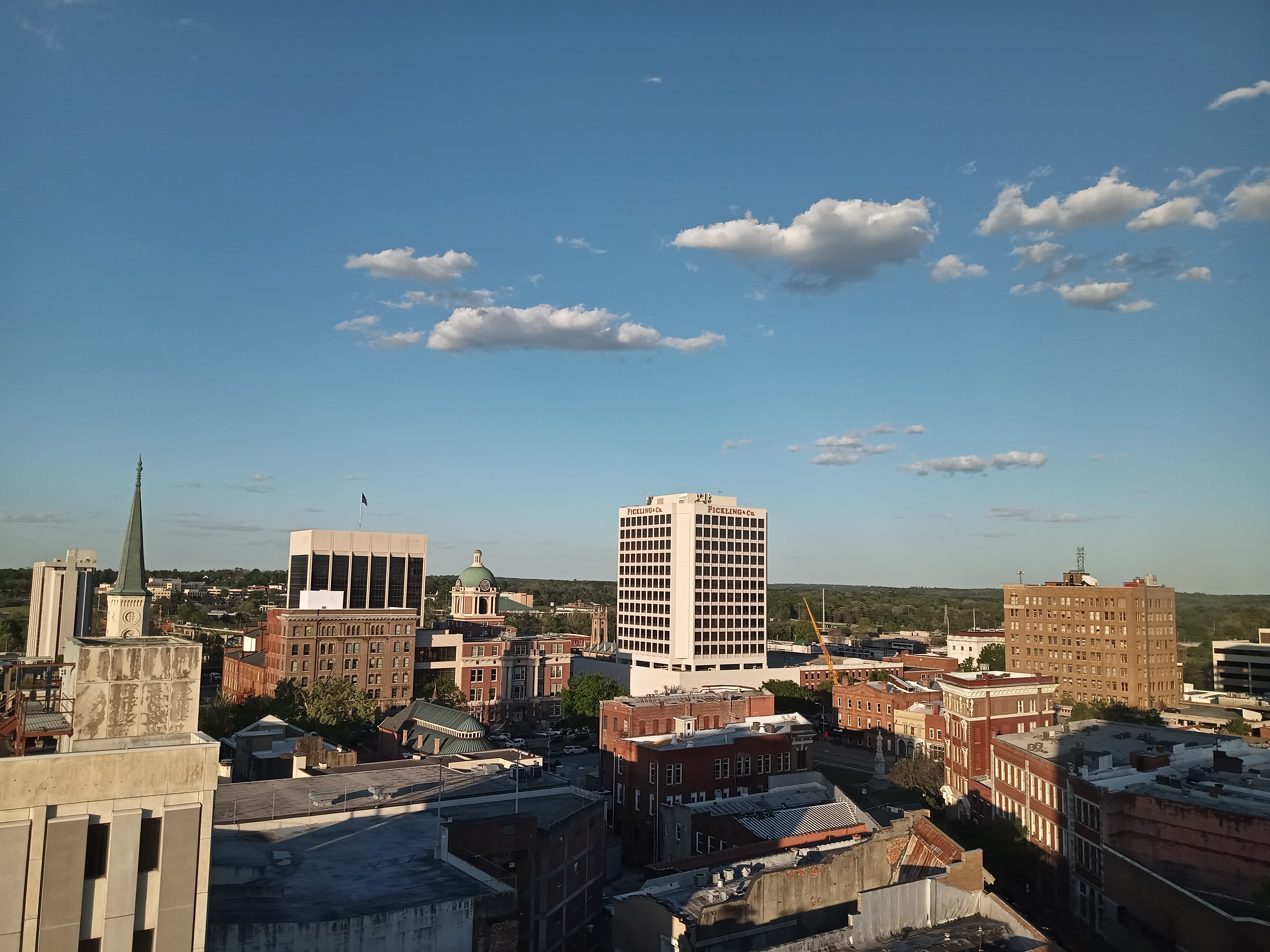 On the first visit, I stayed at Hotel Forty Five, so named because of its location on a street that runs at a 45-degree angle from the rest of the street grid. It's also a nod to Macon's illustrious past in the music recording industry back when 45 records were still common. Hotel Forty Five is downtown Macon's first boutique hotel, housed in an 11-story office building from the early 20th century. I was booked into a room on the top floor. My bathroom, which used to be someone's office, had original windows, and pull-down privacy shades. 
There's a rooftop patio bar on the sixth floor with a photogenic skyline view, a sizable restaurant off the lobby serving elevated Southern fare (called Loom—the name a nod to the textile industry that once flourished here), and a coffee bar.
Oprah was also staying on the top floor, the rumor went. After the fire alarm went off at 6 a.m. with an automated voice from a speaker ordering all guests to evacuate, I had a prime viewing spot from the peephole to the elevator lobby. People were piling out of their rooms to head downstairs, but no Oprah. It makes sense. Why would she stay in a hotel when she could easily rent one of the many beautiful nearby historic homes to have privacy? 
The fire alarm proved false, by the way. Someone had pulled it as a prank, so I was told.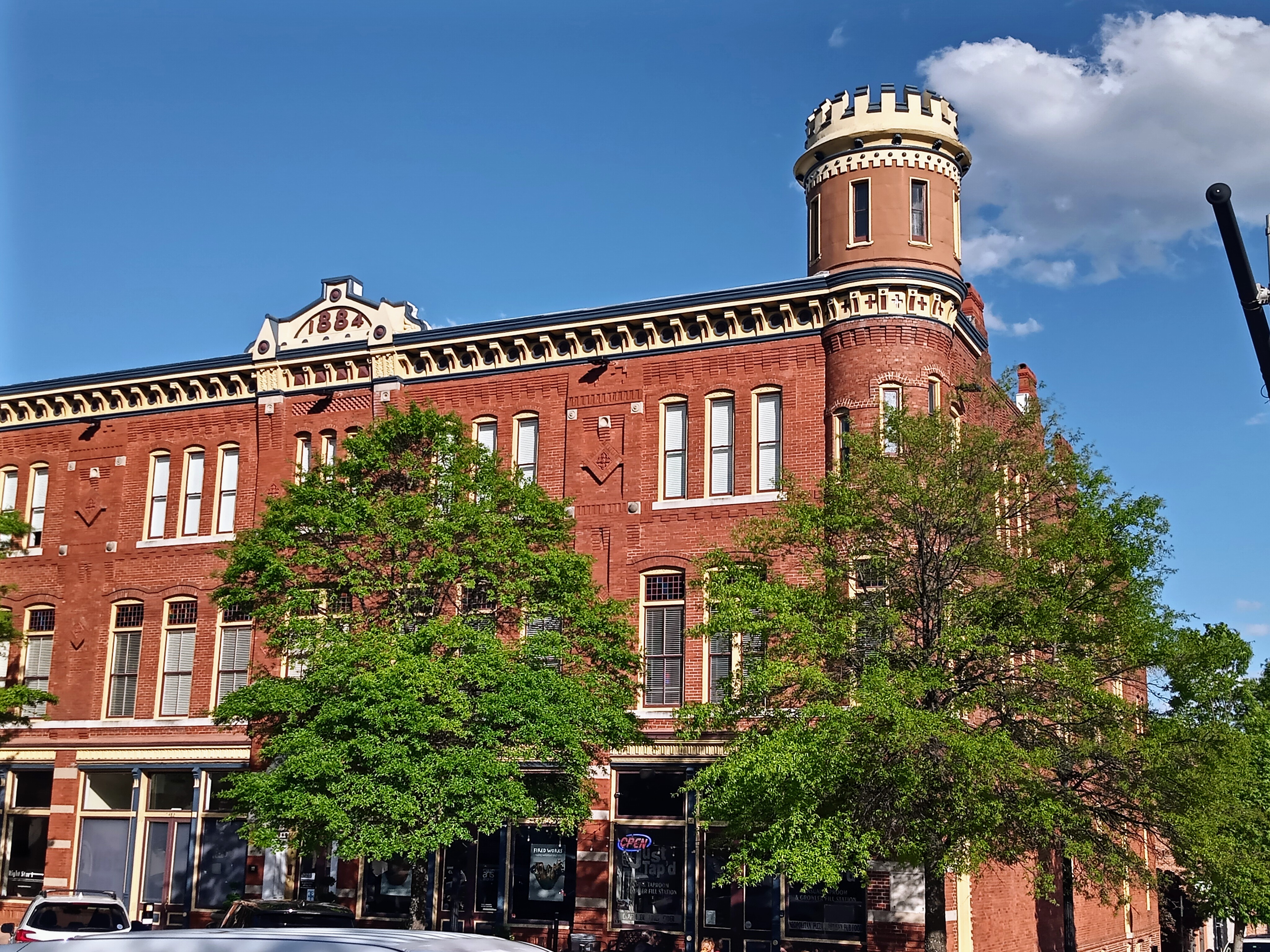 Downtown Macon contains a bevy of lovely low-rise buildings with distinctive historic architecture. This is one of them. It stands across from Hotel Forty Five. As you can see from the signage up top, it dates to 1884. That turret at right might be an addition or replacement due to the different brickwork visible. 
A number of local businesses are at street level in this building, including Just Tap'd, which I visited three times while staying across the street. If I lived in Macon this would be my regular hangout. They sell good beer to go, they sell good beer to stay, and they have good pub grub including pizza. If you're hanging out, choose from multiple seating options including a subterranean level, a tree-shaded sidewalk, and tables next to large windows on the main floor. They were doing trivia one night while I was there and the place was packed on all levels with regulars. I love a good trivia night.
Pearl, a newer restaurant, is a couple of doors down. It wasn't open during my first visit but I've heard good things since. It's got fancy chef-driven food, not pub grub.
Sidewalk view in front of the Woodward Hotel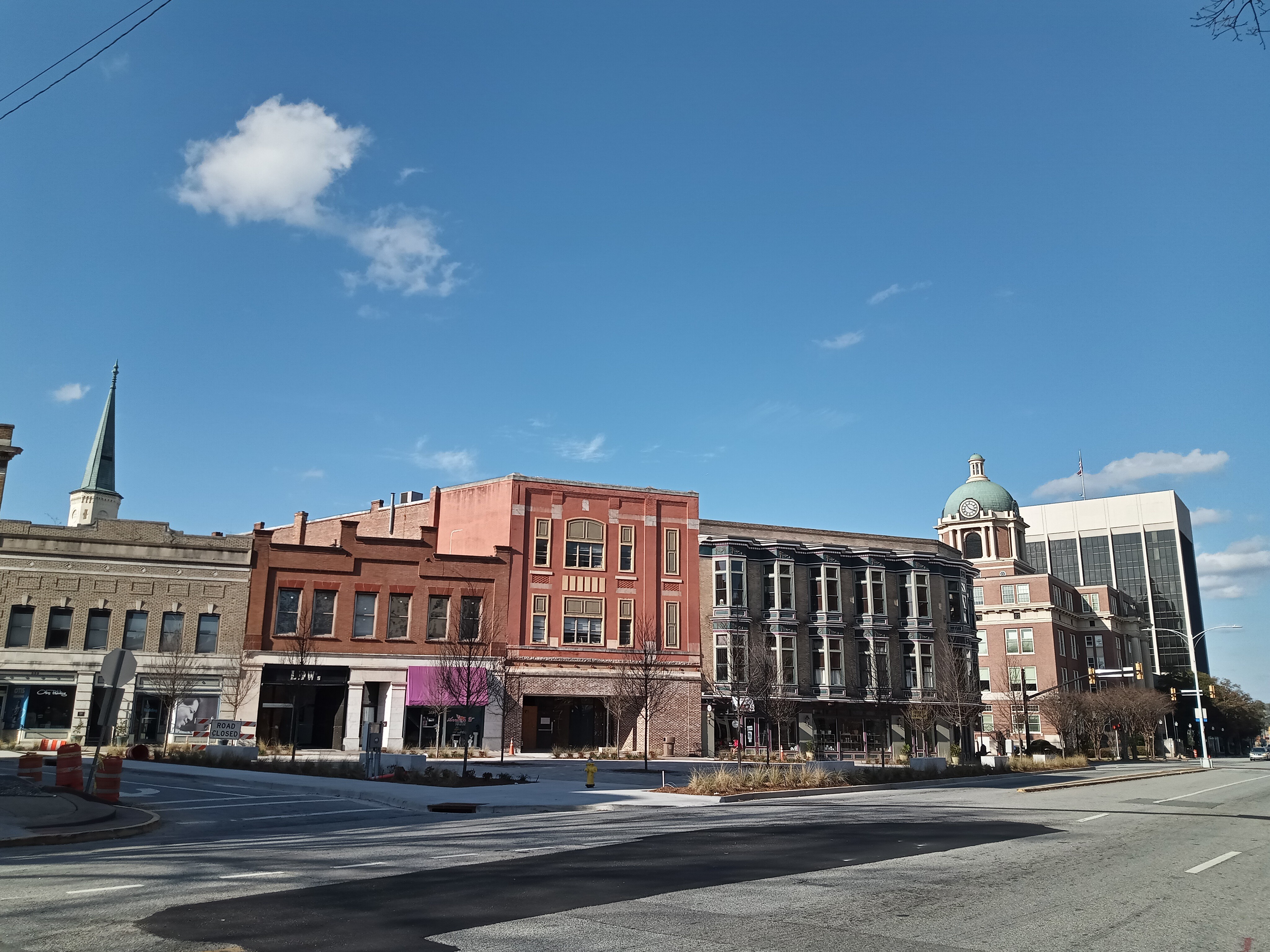 On my second visit, I stayed at the Woodward Hotel. Even newer than Hotel Forty Five, it's also much smaller with nine rooms compared to Hotel Forty Five's 94 rooms. No valet, no front desk, and a small speakeasy-style bar called Quill that continues the literary theme running throughout the hotel with no two rooms alike.
If you compare the picture from my bathroom at Hotel Forty Five to this one, you'll see the same church steeple, green-coupla dome, and office building from a street-level perspective. That's how close the two hotels are to each other. Everything in downtown Macon is within easy walking distance. 
Across from the Woodward, underneath the steeple in this pic, is the Otis Redding Museum. The museum is part of the Otis Redding Foundation, which will be moving up the street to new environs soon, across from Hotel Forty Five (by the way, I've edited this post a half dozen times now to change the spelling of Hotel Forty Five. I had it as "45" but it's "Forty Five" with no hyphen). The Otis Redding Museum contains a treasure trove of artifacts on display related to one of the best soul singers in history who died much too young at 27 years old.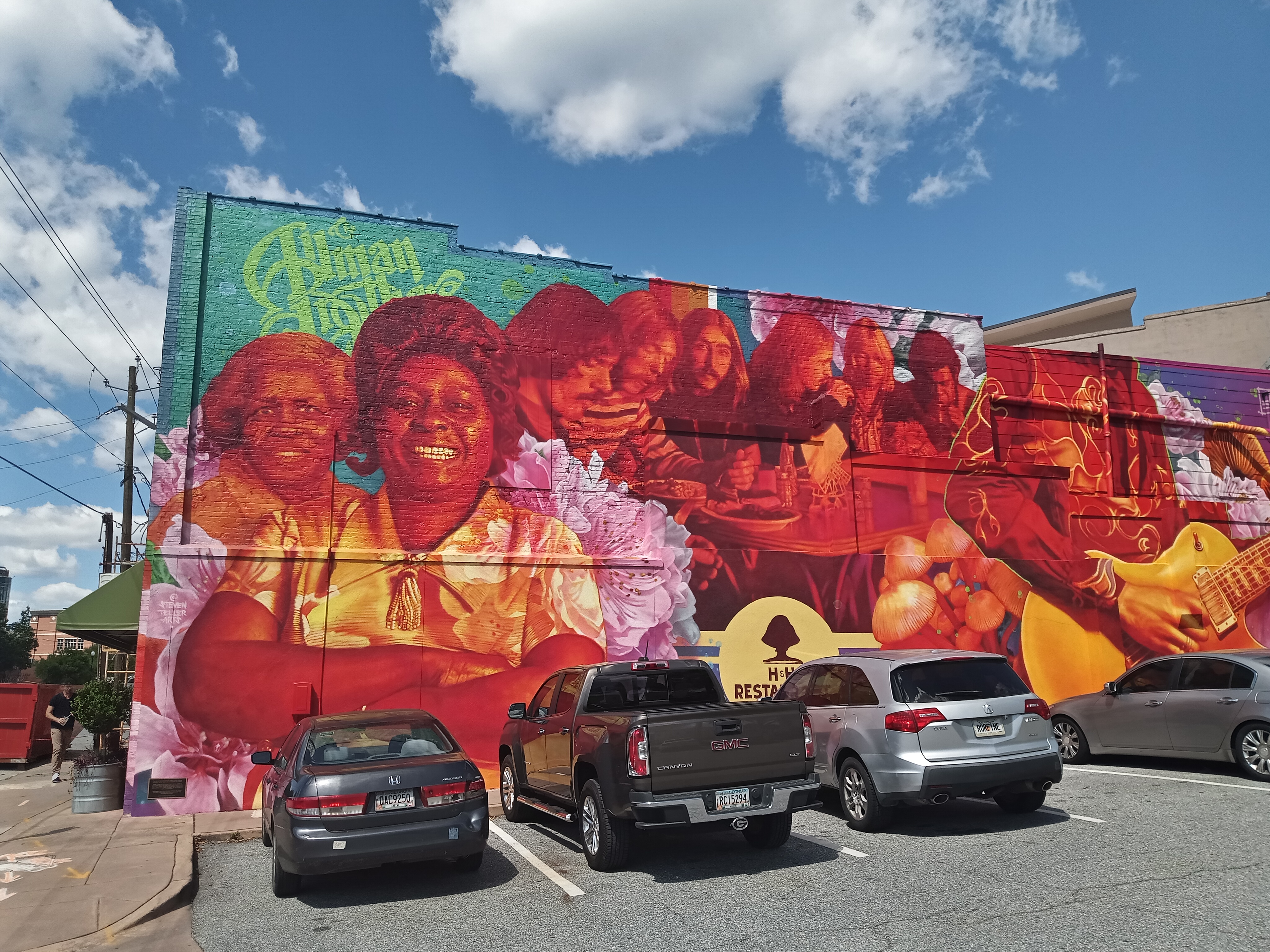 This mural is one of the more photographed spots in Macon. It's on the side of H&H Restaurant, famous for its soul food, and to music fans for being the place where Mama Louise fed a band of scrappy long-haired musicians who would later become quite famous. The musicians lived in an old house nearby that today is known as The Big House, a museum that spotlights the Allman Brothers Band and related acts. Honestly, I'm not a big Allman Brothers Band fan but even I was impressed by this well-done house museum that helps to capture the birth of the Southern Rock genre (along with the museums and studios in Muscle Shoals, Alabama) with an impressive ever-rotating collection of artifacts and exhibits. 
I was skeptical upon entering H&H. I figured its glory days were long gone and that it might be a tourist trap. There were t-shirts and other merch for sale in front but the meal was much better than expected. To my Southern-born-and-bred taste buds, it was sublime. I ordered the meatloaf with two sides—green beans and mac-and-cheese—and a yeast roll washed down with free refills of sweet tea. Everything was spot-on. The hardest part was deciding between the yeast roll and the cornbread. Next time, I'll go with cornbread, mashed potatoes, and fried chicken. My taste buds have already planned out my next trip to Macon. 
— Blake Guthrie