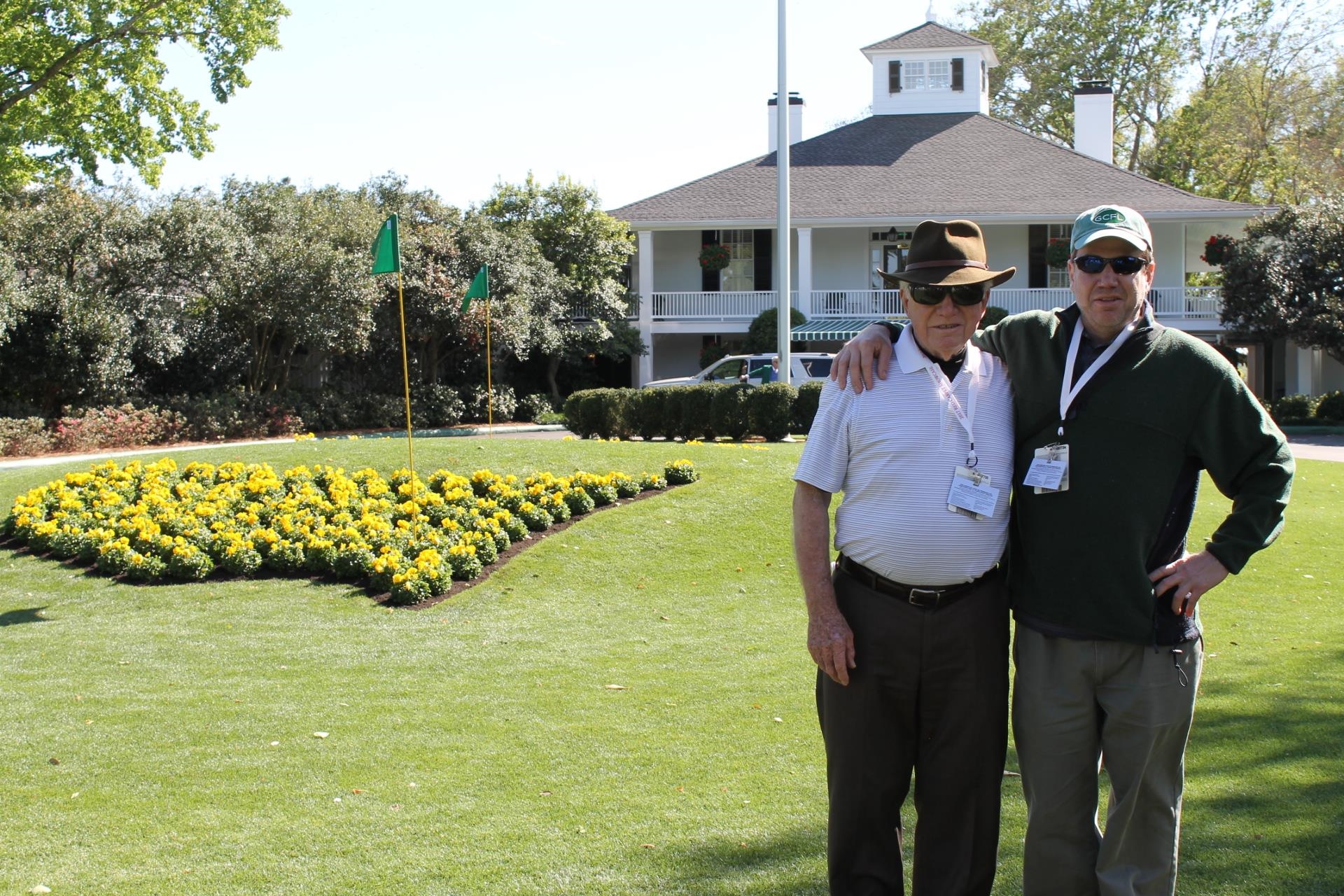 Georgia — the first week of April 2017
Dad reminded me three times before bed to set the alarm. I found this amusing coming from a man who in the 51 years that I've known him has always risen with the sun. We didn't have anywhere to be until 8 am. But this was the Masters. My 85-year-old father, who loves the sport of golf and the hallowed grounds of Augusta National Golf Club, was restless with anticipation. He had watched the Masters on TV all of his adult life and said he knew the course so well he couldn't believe he'd never been there before. It was a dream of his to attend in person. Now, we were going to the Friday round.
Masters tickets are hard to come by, one of the hardest gets in the sports world. It takes one of three things to gain entry: good connections, spending a lot of money on a legitimate package deal, or sheer luck in a limited online ticket lottery system. The first way worked for us when I received an unexpected phone call on Wednesday afternoon of Masters Week.
Wednesday, April 5
The phone rang while I was taking an afternoon nap. I let it go to voicemail before checking the message. "Hi, Blake, it's Melissa. I wanted to let you know I have extra tickets to the Masters for this Friday. The people who were coming can't make it because their flight was canceled due to the weather. Let me know ASAP if you're interested because I'm calling around. We have a place for you to stay on Thursday night."
I sprang up from the bed so fast I'm surprised I didn't get whiplash. Within five minutes I had confirmed that I would indeed be there with my father the next day. Then, I called Dad to tell him he was going to the Masters. On cue, he canceled all his weekend plans and was ready to hop in the car that moment to make the five-hour drive from Birmingham. "No," I pleaded. "Get a good night's sleep and I'll meet you in Augusta tomorrow."
Thursday, April 6
Dad called me on his cell while driving in and I guided him to the address. As he pulled up the driveway, still on the phone, I heard him mutter to himself, "Wow, look at this house." 
We were staying at a historic home turned "hospitality house" for the week. Many Augustans rent out their homes for Masters Week then head out of town for spring break. Companies will turn these homes into hospitality houses to host clients and their guests. My father and I were guest beneficiaries of this longtime practice. The circa-1820 home we were staying in had an illustrious history, having once been owned by the on-staff physician at Augusta National and the site of many legendary parties. No golf world luminaries would be there during our stay, but the ambiance of the place oozed with history, much like Augusta itself.
Friday, April 7
We woke up before the alarm (of course) and made it to the gate on time. It was unseasonably chilly so we were wearing extra layers that would become superfluous garments tied around our waists as the day warmed up. The security line was akin to going through a TSA checkpoint, even at the caddies' entrance. I have no idea why we used the caddies' entrance, but that's where our host said we were supposed to enter. Unlike at an airport, though, cellphones and cameras are forbidden at Augusta National during the tournament (and they checked us thoroughly) so you can't take any pictures to prove you were there or share anything in real-time on social media.
After entering and crossing through the caddies' staging area, past the driving range, and through the heart of the course, we set up our collapsible chairs next to the 17th green to serve as a base of operations. We spent most of the day wandering around and only returned later in the day to find our chairs still there, empty, untouched, and unmoved. That's a thing at Augusta National — nobody messes with anyone's collapsable chairs, which all have name tags.
We marched the grounds to see Amen Corner, the clubhouse, and some of the most famous golf holes in the world which were being played by the most famous golfers in the world. We took in as much as we could, amazed at the flawlessness of the landscaping, the affordability of the concessions, and how fast all the lines moved, even in the restrooms, which were staffed. One of the restroom staffers kept yelling out, "two shakes, two shakes, let's keep it moving!" which got a laugh out of us and others waiting for a stall.
I tried to slow my father down, worried he was doing too much for his age. A few minutes after I made us sit on an embankment next to the No. 5 fairway, he glanced around and gave me a perplexed look. "Why are we sitting here?" he asked. So up we sprang and kept walking.
No cell phones bleeped and no one pulled out a camera. It was wonderful. Corporate sponsorship logos and banners weren't seen. The pimento cheese sandwiches really were as good as you've heard and only cost $1.50. It was like taking a walk back in time. The most expensive thing on the menu was "Import beer" listed generically, served in a green cup and costing four bucks —  the club could easily get away with charging triple that. I could tell it was Heineken but there was no logo.
At one point, while footslogging from hole to hole, we discovered a bank of landline courtesy phones provided by the club so patrons could connect with the outside world. Dad stopped and called Mom to check in, and for the sheer novelty of calling from inside a famous place so disconnected from the modern world. "I'm calling from inside Augusta National!" was a common refrain I overheard from many patrons while standing next to the phone bank.
Secretive Augusta National reveres tradition above all and proudly resists such modern encroachments as digital devices. Even the leaderboards are still turned by hand. A nice touch, but all that tradition isn't without controversy. Once upon a time, all caddies had to be Black, and all members of the club were white men. Condoleezza Rice broke the color/gender barrier when she was invited to be a member of the boys' club in 2012, so change does happen, albeit at a glacial pace, but I digress.
My father, a retired mechanical engineer with an analytical mind investigated the grounds for signs of weeds, improper edging, and drainage issues and reported that he found none.
We left the tournament around 5 p.m. and kicked up our feet in a hospitality tent before the drive home (we only had one night in the hospitality house). Dad was quieter than usual as we continued watching the tournament on the big screen in the tent, but I knew he was thrilled, still taking in the environment of a place he had long dreamed of visiting.
On Sunday, during the final round, I called home to Birmingham. Dad was watching the tournament on TV and we reminisced about our one day at Augusta National two days earlier. Mom said he had an eager audience with the after-church crowd who wanted to know all the details about his experience.
"He's telling everyone all about it," she said.
Now, our pilgrimage seems dreamlike, especially since we couldn't take pictures. We do have proof, though — a picture the club took of us in front of the clubhouse, a nice perk offered to all patrons who know where to go and stand in a fast-moving line. I received an email with the pic after the tournament. That photograph of us next to the iconic America-shaped flowerbed of yellow pansies serves as a reminder that it wasn't a dream after all.
— Blake Guthrie