Nobel laureate Bob Dylan (it still feels weird typing those words) once said of Louisiana's largest city, "There are a lot of places I like, but I like New Orleans better." Nailed it. Dylan said that in his 2004 autobiography, "Chronicles, Volume One," in a chapter about his time spent in the Big Easy while recording an album. (All these years later, fans are still waiting for "Chronicles, Volume Two" to appear, but I digress.).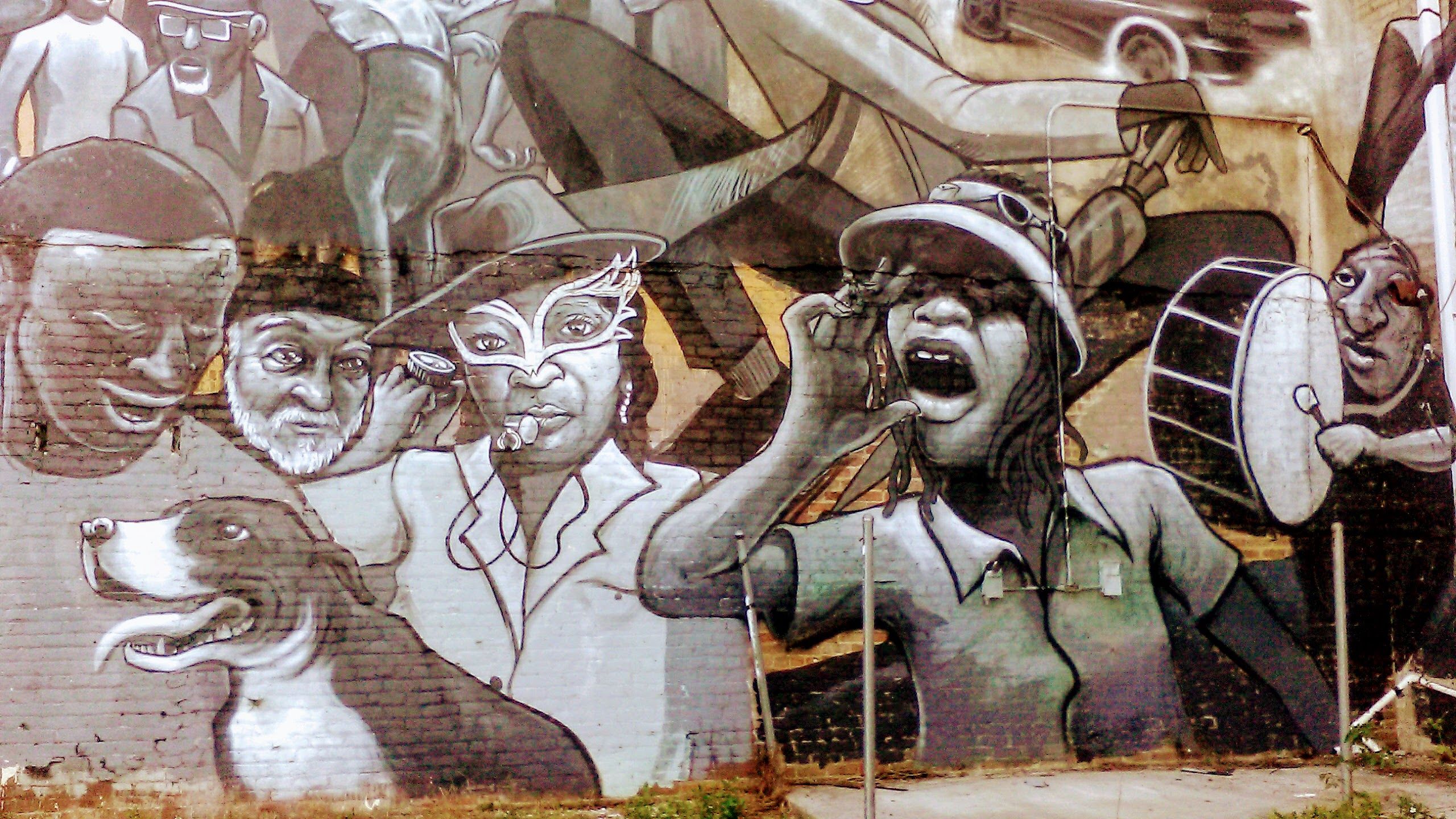 Detail of a mural of a second line march in the Bywater
I hadn't visited New Orleans since before Hurricane Katrina. It was long past time to return, not only to see how well the city had recovered after the deluge but to experience a different side of it. On previous trips, I had only done the touristy things centered in and around the French Quarter. The French Quarter was still on the agenda for this trip because it's unavoidable (and wonderful), but I wanted to discover other parts of town, too.
The driver of my ride service from the airport, a native of the area, told me that I probably wouldn't notice any difference now. He said the only places the hurricane's after-effects are still noticeable are in neighborhoods where visitors don't go, places that people left under dire circumstances and, for whatever reason, never returned.
I checked into a newish hotel, the Moxy, in the central business district, or CBD, as it's called. This Marriott property caters to partying millennials. I'm not one, but the rates were reasonable for the area and the location convenient. Walking into the lobby felt more like walking into a trendy pub because the front desk of the hotel is literally the bar of a pub. I stood in the doorway at a loss until the bartender/desk person called me over to check in to my room. After checking me in, she asked if I'd like a drink. It was hard to turn her down when she said that a cocktail was included with every check-in. This is standard at every Moxy location, apparently, but being handed a drink at check-in is so New Orleans, a place where bars give out to-go cups and have no last call because they never close.
There would be no Bourbon Street for me this time around. I wasn't in search of sugary alcoholic drinks served in giant souvenir to-go cups. I wanted to explore other streets in the Quarter and beyond. Doing it by bicycle seemed like a good way to go. New Orleans is a lot more bike-friendly now than it once was, with dedicated bike lanes along certain major streets, and shared lanes in many neighborhoods.
Free Wheelin' Bike Tours on Bienville Street in the Quarter provides guided tours throughout the city, or you can rent a bike for self-guided adventures. I opted for a three-hour guided small group tour.
Ten minutes in we hit Frenchmen Street in Faubourg Marigny. Our guide made a point of stopping here to congratulate us for doing something that most tourists to New Orleans never do: leave the French Quarter.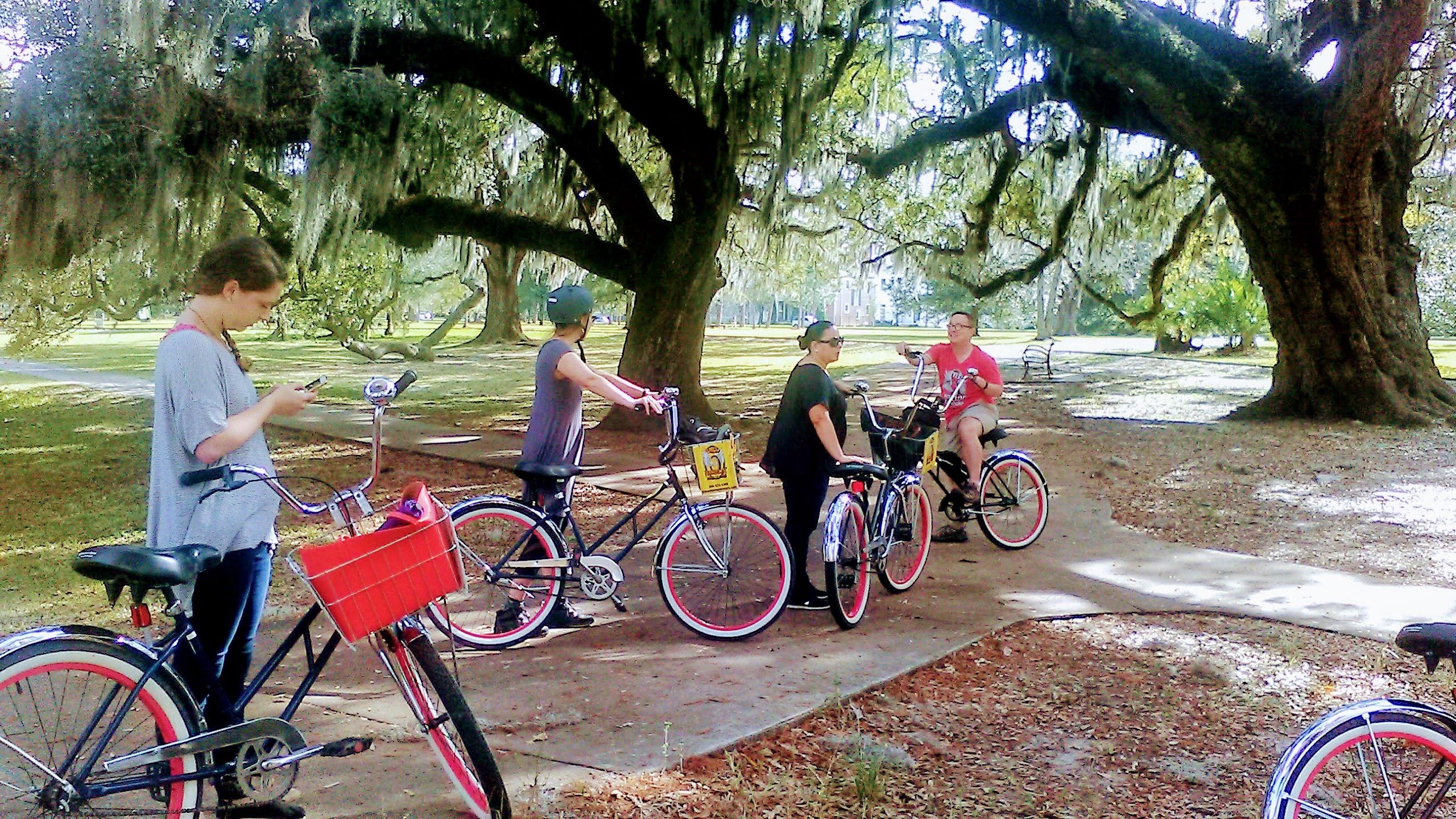 Stopping for a break beneath the magnificent old oaks in City Park. 
Lined with bars and live music venues, Frenchmen Street serves as a less-touristy antidote to Bourbon Street. The bike tour also took us through the Bywater, Bayou St. John, and Treme neighborhoods, and inside the historic St. Louis Cemetery No. 3, one of many above-ground cemeteries in the city, the most famous being Lafayette Cemetery No. 1 in the Garden District. A high point of the tour was exploring City Park with its 800-year-old trees and taking a break at a coffee stand in the circa-1912 Casino Building for the obligatory New Orleans staples of café au lait and beignets.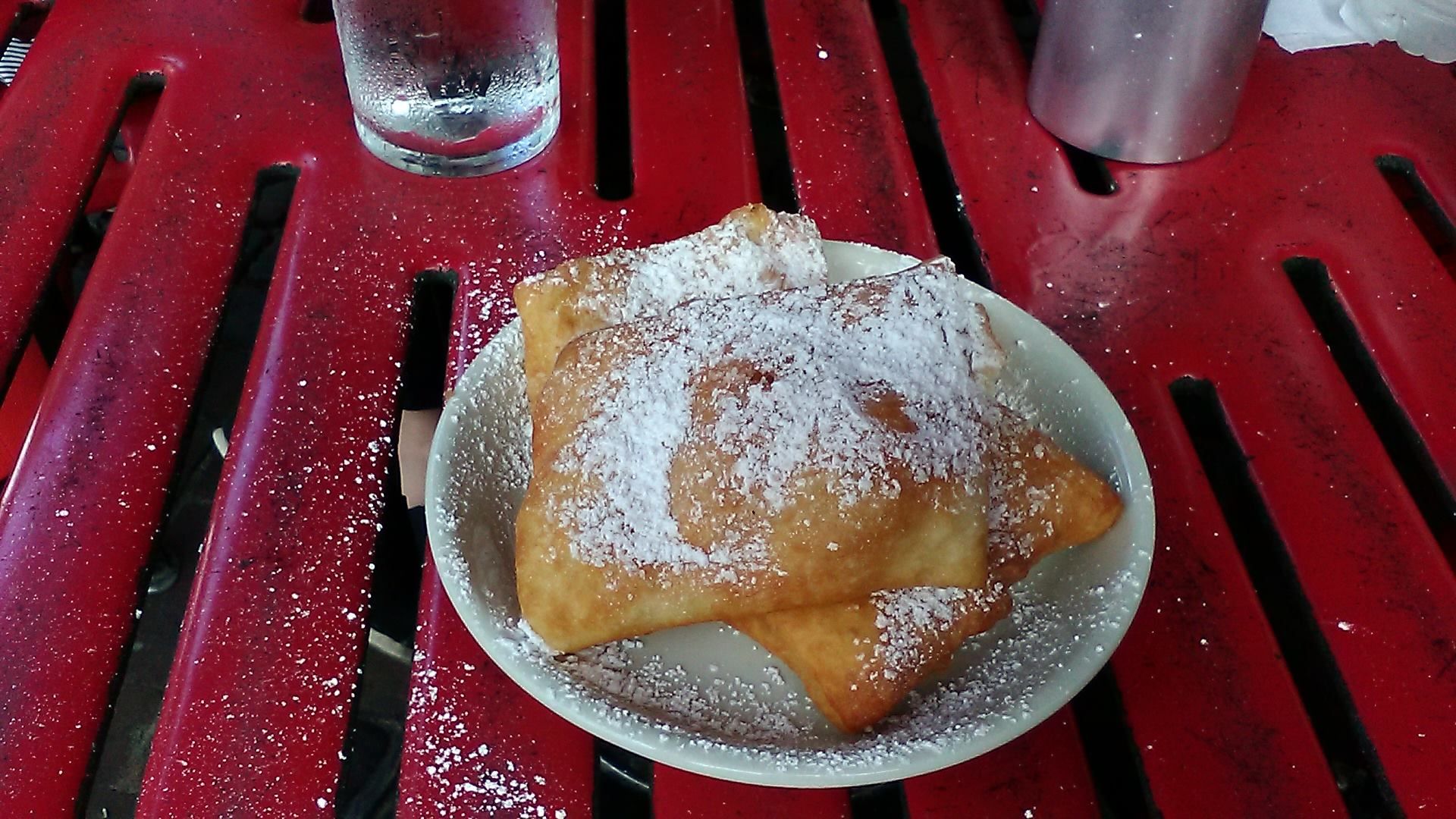 Piping-hot beignets doused with powdered sugar in City Park.
City Park is like New York City's Central Park, only bigger, and older. It's home to the city's major art museum and botanical garden, and the pastoral 1,300-acre grounds have expansive fields, some amazing old-growth trees dangling Spanish moss, plus a lot of activities, public art, and historic architecture.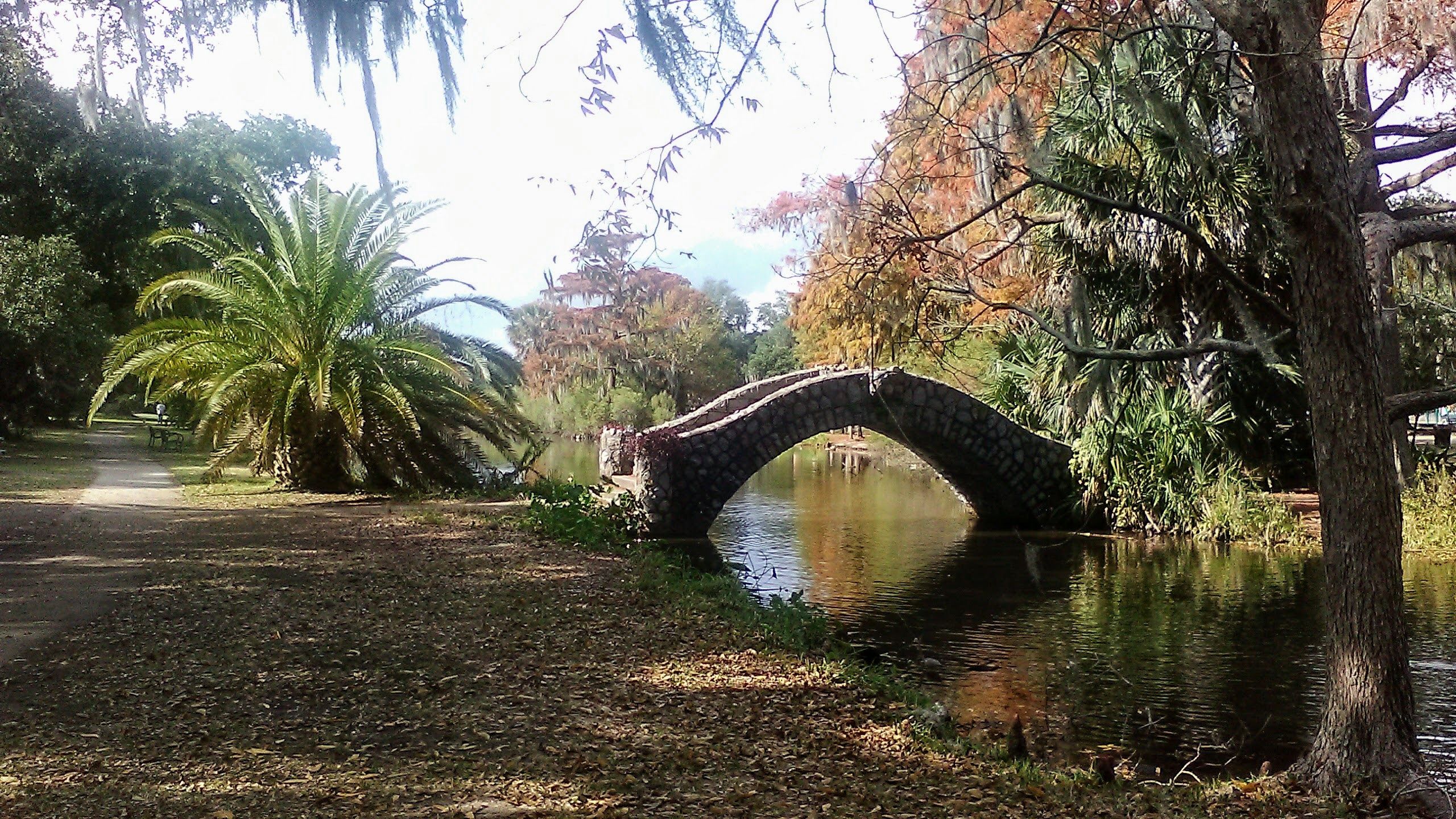 Circa-1902 Langles Bridge in City Park
Free Wheelin' – owned by a family with deep roots in New Orleans – prides itself on giving visitors a locals-only kind of experience. The guide for my small group tour was a local with deep knowledge of all the neighborhoods we pedaled through, including their history and residents.
An unexpected surprise came as we pedaled through Treme, a renowned Black neighborhood that was cut in half when the Interstate 10 overpass was built, a blow that turned a once prosperous community into one of urban blight (a movement is now afoot to remove the overpass, re-route I-10, and restore the once-thriving Claiborne Avenue).
Our guide saw a group of men standing on a corner a couple of blocks south of the overpass and stopped to say hello. It turned out that one of the men was the owner of Treme's Petit Jazz Museum. Though it wasn't part of our itinerary, the group was invited inside for a quick impromptu tour of the small house museum that chronicles the early history of jazz in the place where it started. Moments like this are why you take small-group tours with locals who know things (and people).
The tour I took is called the Creole and Crescent. Many other tour options are available, including a culinary tour, and one of the Garden District.
The last stop on the tour (this one planned) was a few blocks south of the museum at Congo Square in Louis Armstrong Park. Congo Square, a former gathering place for slaves, is widely considered the birthplace of the music that would become known as jazz.
Steeped in the influence of many cultures since its founding in 1718, New Orleans' long, eclectic past can still be seen and felt today. It's a city of magic and loss. Time has only served to enhance its magical spirit, and hurricanes and floods haven't been able to kill it.
"The devil comes here and sighs," Bob Dylan said of New Orleans in "Chronicles, Volume One." An apropos comment for a city where the torrents of nature and the flags of many nations have made their lasting marks. Swampland doesn't normally make a good location to found a city, yet this one at a crescent bend along the Mississippi River has thrived for centuries. And now it's a damned good place to experience from a bicycle seat.
— Blake Guthrie

All photos by the author.
A different version of this story originally appeared in the Atlanta Journal-Constitution in 2017. It has been updated and adapted by the author for use here.