Can a $90-a-night roadside motel outmatch a $900-a-night secluded resort? A study in contrasts (and personal tastes)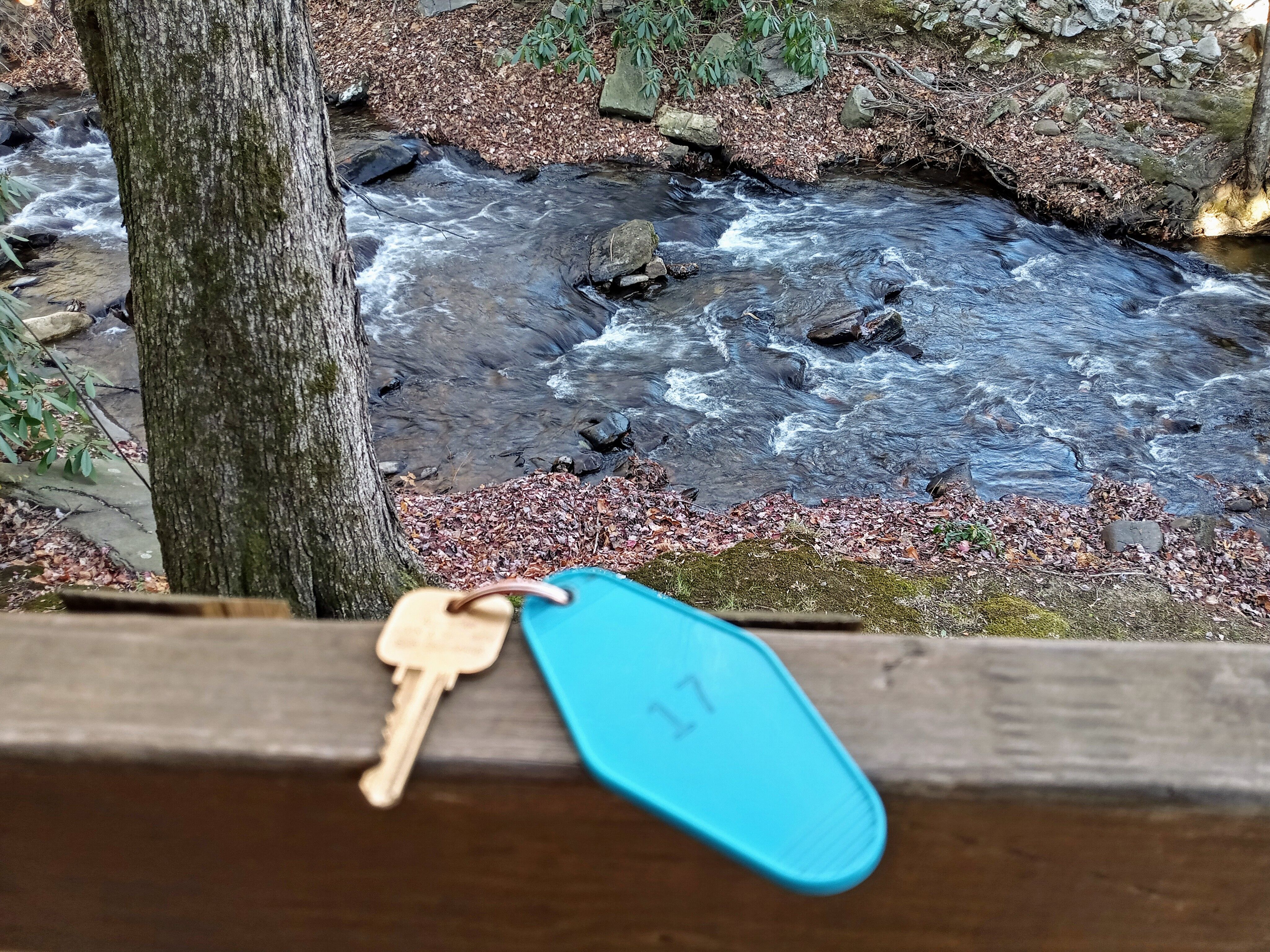 View of the creek from the balcony of room 17 at the Stony Creek Motel
This Thanksgiving I'm reminded of a short trip I took to the mountains of western North Carolina last year at this time. It wasn't an ordinary trip for me since I was traveling alone during Thanksgiving week and not visiting family. I spent the first night in a mountaintop inn that cost $900, and the second night in a motor lodge in the valley below that cost $90.  
To be clear: I would never spend $900 of my own money to stay anywhere for a night, or two, or any number of nights less than 10. Most freelance travel writers such as myself don't have that kind of money. My stay at The Swag atop the Cataloochee Divide on the border of Great Smoky Mountains National Park was comped—it was a work trip. It was also a long way to drive for only one night, so I booked an affordable room on my own dime the next night at the nearby Stony Creek Motel (variously called a lodge or an inn in its online presence but the sign outside says motel) in heavily-trafficked and touristy Maggie Valley.
Though these two establishments are only three miles apart as the crow flies, it's a half-hour drive between them due to the steep winding mountainous terrain. They're hardly in competition with one another due to their divergent price ranges and locations, but, damn, if I wasn't smitten by both properties. There were even some things I preferred about the $90 place over the $900 place. 
The Swag seemed to have more employees than guests, even though it was fully booked. I felt uncomfortable with all the attention. The mountain-rustic property has a rarefied air about it. It's a place of tradition where well-to-do couples and families return year after year the same week each season to participate in the many summer-camp-like activities and socialize in the dining room, at the bar, on the porches, and at hideaway spots throughout the 250-acre property, not a place for a solo traveler to crash in the mountains for one night. In fact, there's a two-night minimum but most parties stay longer.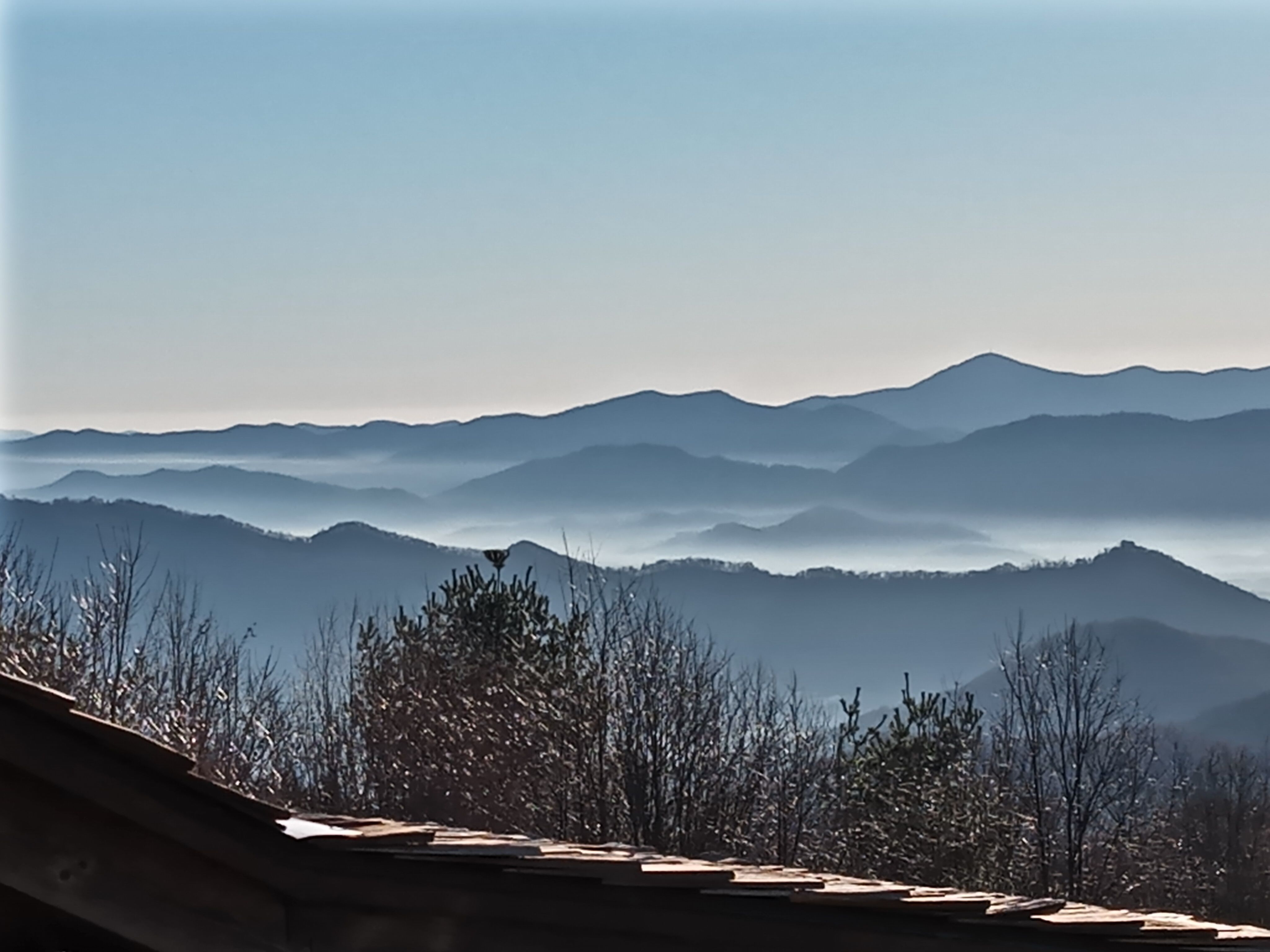 Here's the view from the balcony of my room at The Swag. I was told the highest peak in the distance is Cold Mountain. 
Stony Creek Motel, on the other hand, has none of that but I'm a sucker for old motor court motels that retain their charm so I did some online research and booked it (Note: for those with similar retro tastes, the neighboring Route 19 Inn might be a better option, but I went for the balcony room that opened directly to the creek). It was where I spent Thanksgiving morning alone. After spending 36 hours at The Swag socializing with rarefied strangers, this introvert was spent, so I relished my alone time at the motor court by the creek to reenergize before heading home. Before leaving, I pulled out a yellow legal pad from my work bag, drew out two columns, and sat on the edge of the bed with the balcony door open and the blissful sounds of the creek flowing past to scribble out the notes below, comparing the incomparable. 
Here's what I scribbled on two pages of my yellow legal pad at the time (edited one year later to appease the Gods of spelling, grammar, and clarity):
| $900-a-night (The Swag) | $90-a-night (Stony Creek Motel) |
| --- | --- |
| Balcony room with an incredible long-range view of the mountains. | Balcony room for $10 extra with a view of a single mountain if I lean out to one side.  |
| Noise machine in the room that can sound like a mountain stream. | Actual mountain stream flowing right below the balcony.  |
| A modern programmable thermostat that's impossible to figure out. | A simple old-school motel unit that worked great and will likely outlive everyone who reads this. |
| Phone in the room but no TV. | TV in the room but no phone. |
| Walls and floors that can't dampen the stomping and talking sounds of other guests above. | Same. |
| All staff wearing masks. | Haha. |
| Shitty water pressure in the hand-tiled walk-in shower. | Great water pressure in the pre-fab 1980s-era bathtub. |
| Strict no pets policy. | Mauled with doggie love at check-in by the desk clerk's scrappy mutt that resembled a dirty mop head. |
| I could stroll across the dirt driveway and privately enter a national park. | I could sprint across a busy four-lane highway to the Shell station and purchase local beer. |
| I couldn't park my own car. | I parked my car in front of my room. |
| Plenty of chef-driven food choices on the menu for each meal. | No breakfast on Thanksgiving. |
| Old-fashioned combination wooden key locks with a rope pull were neat but a pain in the ass to deal with so I just left my room unlocked. | An old-school motel key with a well-worn elongated diamond-shaped plastic emblem made me really nostalgic. |
| Obsequious staff trained to please guests at every turn. | Nice ladies at the front desk who can't help you with your WI-FI problems. |
| Hand-hewn logs for walls reminiscent of the 1800s. | Plywood walls were reminiscent of a 1970s suburban basement. |
| Rustic Appalachian elegance throughout with your own personalized hiking stick. | Rustic in-room coffeemaker, microwave, and mini-fridge ... still operational. |
| Fellow guests come from around the globe decked to the nines for a specialized experience at a high-altitude Southern resort.  | Fellow guests come from non-mountainous Southern locales with their rugrats and extended family members to stomp loudly in a mountainous locale.   |
| Charges $25 for a glass of red wine at dinner.  | No wine, no dinner, and no whining.  |
| The majestic Cataloochee Divide Trail is right at your doorstep. | Can walk to dinner at a nearby brewery along the sidewalk on the north side of the parkway.  |
| Will never stay here again unless it's comped again or I win the lottery. | Will never stay here again because the WI-FI sucks.  |
This year, I'm grateful for and thankful to anyone who reads this far in any article I write, especially one on this non-monetized blog. And, no, I'm not spending the holiday alone this time around. Thank you for reading this far, and happy Thanksgiving!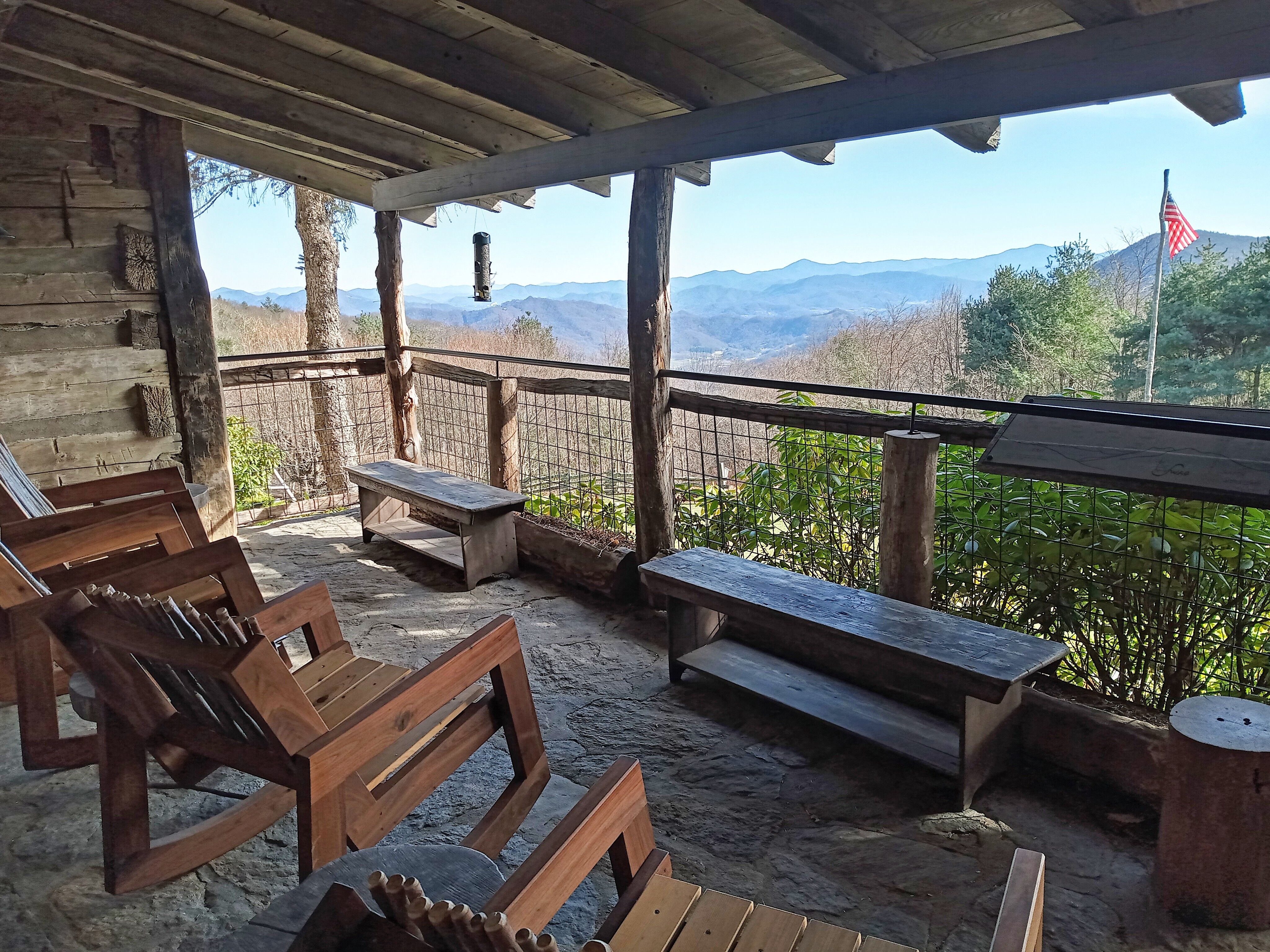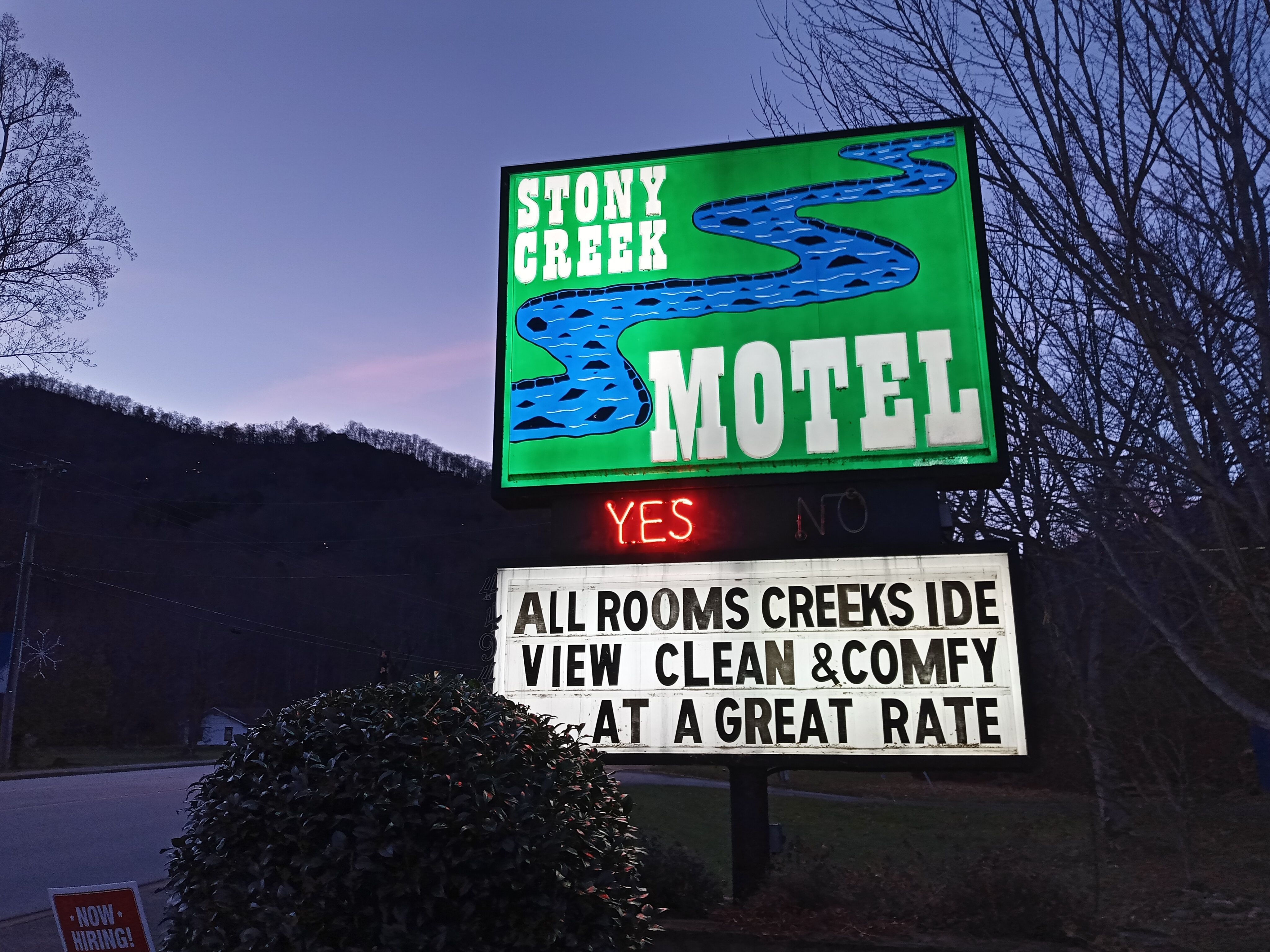 All photos and words by me, Blake Guthrie.
All prices mentioned are approximate and were accurate at the time I scribbled in my yellow legal pad on Thanksgiving, 2021.